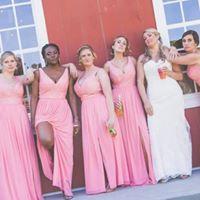 Congratulations! This is an exciting time in your life!
You got engaged--how exciting! There is so much to do, and it's all a blast, but it can be overwhelming when deciding where to start. Before you get too deep into wedding planning, enjoy the sensation of being engaged to the love of your life! This is such a great time in your life, so revel in it! Then, once you're ready to get started with the planning process, use this tip to help you get started.
Hire a wedding planner
Before you do anything, hire a wedding planner to help you with this process! Whether you're the type of bride that has been dreaming about this day since you were young or you have no idea what you want, a wedding planner can help you stay organized and on top of every task that needs to be done. While the whole timeline of planning can be stressful, a wedding planner will take some of the pressure off you and help you accomplish everything you're looking for. They'll research and manage vendors for you, help design the style of your ceremony and reception, and even help you stay on budget!
"We have the experience you can trust, the commitment to execute and the passion to deliver!